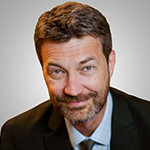 Glen Zielinski
DC, DACNB
Dr. Glen Zielinski earned his doctor of chiropractic degree from Parker College of Chiropractic, graduating summa cum laude and as valedictorian of his class. He also earned a bachelor of science degree in anatomy and was the recipient of numerous awards, including the Board of Trustees Award for Excellence in Diagnosis. Furthermore, he received the CARE scholarship, the largest international award in the chiropractic profession.
He is currently in clinical practice at Integrated Physicians Group in Lake Oswego, Oregon, where his focus is on improving the lives of clients with disabling neurological disorders by utilizing functional methodologies.
Clients regularly travel from across the continent to receive his care. His practice focuses on care for clients with neurodegenerative and neuroimmunological disorders, as well as disorders of movement, balance, and neurodevelopment.
He continues to regularly lecture on functional neurology throughout the United States, Canada, and Europe.
He continues to pursue his studies in functional neurology and is awaiting board certification in the treatment of vestibular and child developmental disorders.
Financial Disclosure
Dr. Glen Zielinski has the following financial interests. He receives a speaker's fee and is reimbursed for his travel and related accommodation expenses by the sponsor, Apex Energetics, Inc.