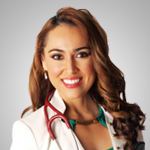 Claudia Marcelo
DO, CMD
Dr. Claudia Marcelo is the founder of Medically Fit & Balanced, a functional and regenerative medicine practice offering the most advanced techniques for anti-aging and sexual wellness procedures. Her passion is to teach others about what she coins as "successful aging". She recognizes that no two people are alike, and, therefore, each patient needs a personalized approach to care.
Dr. Marcelo is a board-certified family and geriatric medicine physician. She completed her undergraduate studies with honors at the University of Chicago and received her doctorate from the New York Institute of Technology College of Osteopathic Medicine. She then completed her residency and fellowship at Florida Hospital in Orlando, Florida.
Using the principles of functional medicine, Dr. Marcelo is helping patients change their lives by treating the mind, body, and spirit as a whole through customized and comprehensive wellness regimens.
She is a member of the Institute of Functional Medicine and the Kalish Institute. She has received stem cell training from the prestigious Institute of Regenerative Medicine in Spain (Sociedad Española de Medicina Regenerativa y Terapia Celular) and has been certified by Train Now MD in regenerative and cosmetic medicine.
Ten years ago, Dr. Marcelo was diagnosed with a chronic illness that conventional medicine could not treat. Functional medicine filled the gap in her care, and now she is rewarded with sharing her experiences and knowledge with her patients and seeing drastic improvements in their health.
She also worked at the Hughes Center for functional medicine to carry on Dr. David Perlmutter's legacy to change the practice of medicine to a more holistic and integrative approach where patients are active partners in their healing journey.
Dr. Marcelo is a past National Physique Committee (NPC) bodybuilding competitor and in her spare time loves to exercise, travel, and read.