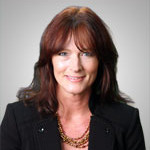 Kari Vernon
DC, CNS, DCBCN, DCCN, FIACA
Dr. Kari Vernon is a fellow of the International Academy of Clinical Acupuncture and a diplomate of the College of Clinical Nutrition and the Chiropractic Board of Clinical Nutrition. She has maintained a private chiropractic practice in Phoenix for 25 years. She provides treatment programs for children and adults suffering from endocrine, neurological, and immune system disorders. Dr. Vernon has been a speaker at Apex Seminars™ since 2006.
Dr. Vernon received her nutrition specialist certificate in 2009, earned her doctor of chiropractic degree from Northwestern College of Chiropractic, and is a certified biophysics practitioner.
Dr. Vernon was a columnist for the Arizona Light, a monthly newspaper in Phoenix, has been a guest speaker for numerous radio shows, and was a lecturer and spokesperson for Sulin International, a whole-food nutritional company.
Financial Disclosure
Dr. Kari Vernon has the following financial interests. She receives a speaker's fee and is reimbursed for her travel and related accommodation expenses by the sponsor, Apex Energetics, Inc.