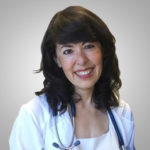 Pearl Zimmerman
MD, MPH, DABOIM
Dr. Pearl Zimmerman completed her preventive medicine residency at Loma Linda University in Loma Linda, California, where she also served as an assistant professor for the School of Medicine and the School of Public Health. She has been a keynote speaker for the Breast Cancer Early Detection Program. She also interned at Johns Hopkins University, working in breast cancer research.
Dr. Zimmerman has served as a primary care physician with the Cowlitz Indian tribal health clinic, the Loma Linda Veterans Administration Hospital, and with Loma Linda University's College Health Services and Social Action Corp clinics for homeless and underserved populations.
Dr. Zimmerman has a solo private practice in Irvine CA, where she specializes in functional and integrative medicine. Her approach involves viewing the body as an interrelated whole. She focuses on supporting the immune system, restoring gut health, and ensuring that neurotransmitters, blood sugar, and adrenal, sex, and thyroid hormones all function at optimum levels. She believes in tailoring care and addresses nutritional deficiencies and uses genetic profiles and other extensive tests to support each unique individual.
Dr. Zimmerman is board certified in integrative medicine. She has also completed the coursework for certification by the Institute of Functional Medicine.
Financial Disclosure
Dr.Pearl Zimmerman has the following financial interests. She receives a speaker's fee and is reimbursed for her travel and related accommodation expenses by the sponsor, Apex Energetics, Inc.