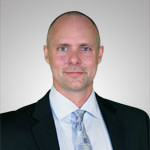 Steven Noseworthy
DC, DACNB, DCCN, BSc (Hon), BComm (Hon)
Dr. Steven Noseworthy earned his designation as a board-certified chiropractic neurologist and has continued to apply neurological principles to clinical practice. He was a practicing physician and the clinical director of a multidisciplinary clinic in south Florida that included a team of eight healthcare professionals spanning chiropractic, allopathic, naturopathic, and Oriental medicines.
He currently maintains an active, solo practice in Sarasota, Florida, where he is developing an emerging model of health and wellness based on the integration of functional neurology with functional medicine and nutrition.
Prior to earning his chiropractic and chiropractic-neurology degrees, he earned a bachelor of science degree in business administration (marketing) and a bachelor of science degree in human biology. He earned his doctor of chiropractic degree, graduating with honors, from Logan College of Chiropractic in 1995.
Currently, Dr. Noseworthy is completing certification in vestibular rehabilitation and is preparing to apply for his master's thesis in neurological sciences. He is soon to be certified as a clinical nutrition specialist and a CrossFit level 1 instructor.
In 2008, Dr. Noseworthy joined Apex Energetics™ as a speaker and has most recently lectured on autoimmune physiology and thyroid disorders, as well as the cardio-gastrointestinal-immune connection.
Financial Disclosure
Dr. Steven Noseworthy has the following financial interests. He receives a speaker's fee and is reimbursed for his travel and related accommodation expenses by the sponsor, Apex Energetics, Inc.